We've been talking about Facebook quite a bit on our blog, and for good reason - we're all concerned with our privacy, and Facebook has been notoriously front-and-center when it comes to Internet privacy. In this post we will break down Facebook's privacy settings to help you gain control over your personal identity while using the social network.
We said this in a previous blog post, but Facebook is huge. Almost a quarter of the world population is considered active on the platform. It has changed the way people communicate, and for better or worse it has become a major part of the lives of so many people.
I'd be willing to wager that most readers of our blog understand that, for the most part, if you want to control your privacy online, you need to limit what you put online. At least, that's a big part of privacy. Unfortunately, with mobile devices, location sharing, and machine learning, services are able to collect a lot of information that you aren't directly giving it voluntarily.
Let's Recap - Should I Just Quit Facebook?
We're going to leave that ultimate decision up to you, but regardless of how you feel about social media and Facebook in general, there are plenty of pros and cons to being an active Facebook user.
What are the pros? There's the obvious stuff - Facebook is a great platform to communicate with friends, colleagues, and family. Facebook Messenger is a pretty feature-rich instant messenger with group chat capabilities. Many businesses and organizations use Facebook as one of their main platforms to communicate with clients and customers, either through Facebook pages or Facebook groups. Plus, businesses can run fairly cost-effective targeted advertisements through Facebook with better accuracy than most other ad platforms.
The downsides? Privacy. All of the information we punch into Facebook goes to Facebook. It helps Facebook learn about us. Facebook watches how you interact with posts and what you scroll through. After hours and hours of this, year after year, like after like, Facebook really starts to figure out who you are, maybe even more than you think you are letting on. It uses this information to help target ads and curate the posts you see in your timeline.
As we've seen historically, Facebook has also done some pretty shady things with our personal data. Without going too deep into any particular topic, here are a few quick examples to refresh your memory:
Back in 2007, Facebook had a feature where companies could track purchases by Facebook users and notify their friends of what had been bought, often without consent.
In 2011, Facebook was charged by the FTC for allowing private information to be made public without warning. Facebook was essentially letting third-parties access user information without consent.
In 2013, Facebook had a bug that exposed the email addresses and phone numbers of 6 million Facebook users.
In 2014, Facebook ran an experiment to see if they could make users depressed by delivering depressing content. It turned out that yes, they can.
In 2015, Facebook decided that Facebook apps shouldn't have access to all the private user data that they want, meaning it was pretty much a free-for-all until then. This leads up to the infamous Cambridge Analytica scandal.
In 2018, it was revealed that Facebook had a massive 50 million user data breach, knew about it, but did nothing until it started to make them look bad.
The last few years have been busy for Facebook, and we're only focusing on privacy-related issues, and not even touching on other, more volatile topics of discussion that the social network has gotten wrapped up in.
You don't need to jump ship, but you do need to control what information is shared.
If you are like many, you might not love everything that has to do with Facebook, but you probably do benefit from having a massive social platform that you can use to communicate with friends, family, fans, clients, and prospects. Privacy is more important than ever. Let's log in and take a look at how we can gain control over your information.
Facebook's Privacy Options
Log in to your Facebook account on your desktop.
On the top right, there is a small down arrow. Click it and go to settings.
From there, click Privacy.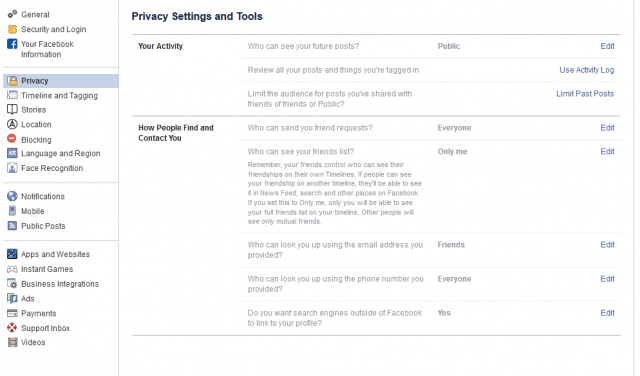 Facebook generally lets you set privacy options for a few different groups of people:
Public - Anyone can see this information, even if they are not Facebook friends, and even if they aren't signed into Facebook, In theory, this means search engines and other online entities can see your information as well.
Friends - This means only people you are Facebook friends with can see the information.
Friends except… - This lets you filter out some friends or specific user-created groups from seeing certain information. For example, you can create a group called "employees" and put your employees who have added you on Facebook in it. Then you can lock down some content and forbid those friends from seeing it.
Only me - This means none of your friends can see the information, and that it is strictly between you and Facebook. Still, don't share anything that you wouldn't want getting out there.
You can also choose specific Facebook friends who can see certain content, if you wish.
Let's take a look at each option. Fortunately, Facebook does a pretty good job explaining these in plain English.
Who can see your future posts? This option allows you to set the default privacy setting on future Facebook posts. You can always manually change it on a per-post basis, this just sets the standard.
Review all your posts and things you're tagged in. If you click Use Activity Log you will be able to scroll through your entire timeline and manage the permissions of your previous posts. This is also where you'll find posts that you have been tagged in from friends.
Limit the audience for posts you've shared with friends of friends or Public? If you click Limit Past Posts, you can quickly lock down all of your past posts by changing them from Public to Friends only. Careful though, Facebook doesn't let you revert this very easily. If you decide you wanted your posts to be public, you'd need to go through them by hand to change the privacy settings.
Who can send you friend requests? You can either set this to Everyone or Friends of friends. This is one of the few cases where it probably doesn't hurt to leave it set to everyone.
Who can see your friends list? This is definitely one you should lock down. You don't need everyone in the world seeing who your Facebook contact list is. Setting this to Only me will keep that information private (well, Facebook will still know, but most users won't).
Who can look you up using the email address you provided? You can decide if the general public can find you on Facebook via your email address. For most of us, we probably don't need that, so locking this down to Friends or Only me is probably a good call.
Who can look you up using the phone number you provided? Again, you probably don't need the public using this, so setting it to Friends or Only me will give you more control over your identity.
Do you want search engines outside of Facebook to link to your profile? Although Facebook doesn't really control how Google, Bing, and the other search engines work, you can dissuade your Facebook profile from being indexed by the search engines with this option. If your personal brand is important and you want people to be able to find your profile when Googling your name, keep this set to Yes.
Control How Others Interact with Your Personal Facebook Profile
Still under Facebook's Settings area, click Timeline and Tagging on the left. These settings let you choose whether or not others can post content to your timeline, and who can see this content.
Who can post on your timeline? You can choose Friends or lock it down to Only me so nobody can post to your profile.
Who can see what others post on your timeline? If you choose Friends for the above option, you should definitely lock down who can see it. Setting this to Friends will limit who sees your friend's post, and Only me will prevent a Facebook friend from hurting your reputation.
Allow others to share your posts to their stories? Facebook breaks this one out pretty clearly - if you post something publicly, do you want friends to be able to share it? This is how good content gets shared around Facebook, so you may want to leave this enabled.
Who can see posts you're tagged in on your timeline? Friends can tag you in a Facebook post, but you can control who can see it. If you want to hide your personal life or have some rambunctious Facebook friends, you may want to set this to Only me or at least lock it down to just Friends.
Review posts you're tagged in before the post appears on your timeline? You'll be able to vet the content you are tagged in, but remember, if Jack tags you in a post, all of Jack's friends will be able to see it before you get a chance to review it. You should definitely set this to on.
Review tags people add to your posts before the tags appear on Facebook? Definitely set this to on.
Managing Public Posts
Still in the Settings page of Facebook, click Public Posts on the left-hand side.
Who Can Follow Me - Followers are sort of like one-sided friends. It might be somebody who sent you a friend request that you chose to ignore. If you want the general public to be able to see your posts and follow you, set the option to Public. If you want to only allow friends to see your post, change this setting to Friends.
Public Post Comments - This is where you choose who can comment on your public posts. You can lock this down to just Friends, or Friends of Friends if you wanted a bit of a wider berth.
Public Profile Info - Some parts of your Facebook profile are available for the general public (your name and profile image, for example). Do you want just anyone to be able to comment on your profile image or other biographical information? Locking this down to Friends or Friends of Friends is usually a good idea.
Want Facebook to Know Where You Are?
Facebook can track your location history. They don't share that data to your friends, but… honestly we couldn't find a whole lot of reasons why Facebook wants to collect this data other than to serve you targeted ads. We hope that's all it is used for, but it's better to be safe. As mentioned above, Facebook does have a little bit of a history of not keeping your data safe.
From the Facebook Settings page, click Location on the left-hand side. You can View your Location History to see what Facebook already knows about you. In order to turn the feature off, you need to log into the mobile app.
On your Facebook App:
Tap the 3-bar hamburger icon on the top right. Then scroll down and tap Settings & Privacy, and then Privacy Shortcuts. You'll find a whole new area with various security settings and documentation on how Facebook lets you control your identity.
Look for Manage your location settings which should be on screen without needing to scroll down.
Tap Location Access and turn off Location History. Tap Location Services and turn "Use Location" to off.
You'll also see an option for Background Location. You might need to go back a step on your phone to get to it. You'll want to turn that off as well, if it isn't already.
Let's go ahead and delete your location history too.
Again, from the Facebook mobile app, tap the 3-bar hamburger icon on the top right. Then scroll down to Settings & Privacy and then Privacy Shortcuts.
Choose Manage your location settings and tap View Your Location History.
Facebook will prompt you for your password.
Tap the 3-dot settings icon on the top right.
Tap Delete all location history.
Keep in mind, if you post a photo that tags your location, or check in to a public place, you might be granting Facebook access to your location data again.
Apps and Websites That You've Connected to Facebook
One last thing - some websites and applications will let you log in via Facebook. For example, Spotify will let you create an account with your Facebook account, and the dating app Tinder will use your Facebook profile image for your Tinder profile.
This is fine, if you've locked down your Facebook account and are protecting your login with two-factor authentication and a secure password, and you are controlling the data that you give to Facebook, then these other applications aren't going to be much of an issue.
However, it is worth auditing the applications and websites you've given access to your Facebook. If you don't use something anymore, or you don't recognize something, it's best to revoke its access.
Google has a similar feature. You can access it by logging in to your Google account and go to their security settings.
For Facebook, from your computer, click the down arrow icon on the top right and choose settings.
Then click Apps and Websites on the left-hand side.
Review the Active apps and remove any that you no longer need.
Be sure to check the Expired tab on the top as well. These apps are still technically attached to your account, but they haven't been used recently.
You can click on each app and website to see what information is shared.
Was That Overwhelming?
That's Facebook in a nutshell. It's a massive platform used by 25 percent of all humans on a regular basis. Protecting your data and your identity is important. If you are looking to protect your business, don't hesitate to reach out to us. Give us a call at (217) 428-6449.